How to choose the right polyester cosmetic bag
How to choose the right polyester cosmetic bag?
Polyester ladies cosmetic bag is your ideal choice.
For women who love beauty, make-up is part of their daily life, and as a polyester cosmetic bag filled with cosmetics, it has become a very important life partner, so it takes time and energy to choose a cosmetic bag that suits them. How to choose a polyester cosmetic bag? The characteristics of polyester determine that the polyester ladies cosmetic bag is your ideal choice.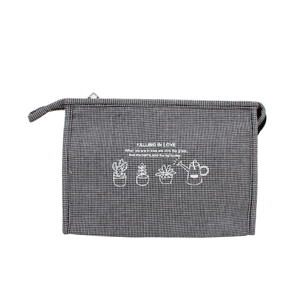 1. How to choose a polyester cosmetic bag
There are three aspects to pay attention to when choosing a polyester cosmetic bag: lightweight material, multi-layered design, suitable for your own style. The lightweight material can bring convenience to carry, the multi-layer design can arrange the fine and small things in different categories, and the style that suits you can put all the bottles and cans in place.
Therefore, to choose an ideal cosmetic bag, these three aspects are very important.
2. Characteristics of polyester cosmetic bag
Polyester is a polyester fiber, which is a very good fabric for making bags, so it is especially suitable for making cosmetic bags. Polyester is suitable for making polyester ladies cosmetic bags because it has these characteristics:
First of all, the elasticity of the fabric is particularly strong, so the made cosmetic bag is durable and has good anti-wrinkle performance.
Secondly, polyester is easy to dry after washing, and the strength of the fabric will hardly decrease after washing, so the cosmetic bag of polyester fabric is not easy to deform.
The third is that polyester fabric has the best heat resistance, and the pleats made with it are durable.
The fourth is that polyester has good light fastness and excellent light fastness, so it is especially suitable for outdoor use.
The fifth is that it is particularly resistant to various chemicals, whether it is acid, alkali or mold, it is not very destructive, and it is particularly durable.
In summary, the characteristics of polyester fabrics determine that polyester women's cosmetic bags are your first choice for cosmetic bags.
Where to buy polyester cosmetic bag?
Lilla Accessories, which has been mainly engaged in fashion accessories business since 2006, is one of the top 10 Sellers Union Group members in Ningbo and Yiwu.
Lilla Accessories Co., Limited is a leading fashion accessories manufacturer in China that focuses on Long Scarf, Neck Warmers.
This website provides relevant information such as product pictures. We provide you with a full range of picture references when shopping, providing a pleasant online shopping experience!
Our mission is to provide customers with high-quality, best-selling products.
We focus on producing high-quality products with complete specifications.
When designing and developing new products according to customer needs, we strictly control quality standards while controlling production costs.
Welcome to choose Lilla Accessories.
All our products comply with REACH standards, and the factory has passed BSCI and SEDEX audits. And provide packaging design and payment support according to customer requirements.
Welcome to choose Lilla Accessories Co., Limited-a leading fashion accessories manufacturer in China that focuses on Long Scarf,Neck Warmers. >>>More products