How about a cosmetic bag made of polyester
How about a cosmetic bag made of polyester?
The cosmetic bag is used to make up when going out. The cosmetic bag used to hold cosmetics has become a must-have for women to go out. The cosmetic bag can also solve the storage problem of various small cosmetics. Cosmetic bags are made of various materials, how about polyester cosmetic bags? How to customize the choice of polyester ladies cosmetic bag?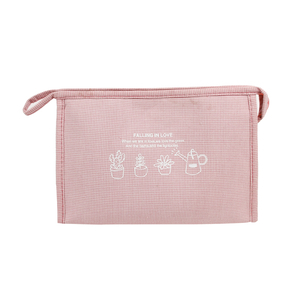 1. How about a cosmetic bag made of polyester
The strength and elasticity recovery ability of polyester fabric is particularly good, because of this, it is durable, wrinkle-resistant and non-ironing. In addition, polyester fabric has good chemical properties. If cosmetics accidentally stick to the polyester fabric in time, it will not cause damage to the fabric. In addition, as a kind of chemical fiber, polyester has the characteristics of stain resistance, easy washing, not easy to deform or shrink, and the price is not high. Therefore, the polyester material is particularly suitable for making cosmetic bags.
2. Essential tips for customizing polyester ladies cosmetic bags
At present, polyester is considered to be the best fabric for cosmetic bags on the market. When choosing polyester ladies' cosmetic bags, there are several factors to pay attention to.
First of all, pay attention to the size of the cosmetic bag. As a portable cosmetic bag, it is very important to carry it conveniently. Therefore, the design should be small and light, and the side must have a certain width, so that all small items can be put in the cosmetic bag, and then put the cosmetic bag Inside the big bag, it won't make the big bag look bulky as a whole.
Secondly, the cosmetic bag must have a sandwich. There are many items used for makeup, which are very fine and small, and there are many small things that need to be placed. If there is a layered design, it will be easier to classify these things when they are placed.
It can be seen that polyester material is very suitable for cosmetic bags. If the size and design of polyester ladies cosmetic bags are selected, it will be an ideal match for women to go out.
Where can I buy polyester cosmetic bag?
Lilla Accessories Co., Limited is a leading fashion accessories manufacturer in China that focuses on Long Scarf, Neck Warmers.
Lilla Accessories, which has been mainly engaged in fashion accessories business since 2006, is one of the top 10 Sellers Union Group members in Ningbo and Yiwu.
We combine innovation, hard work and attention to customer needs to provide a perfect combination of new products.
We focus on developing new products with a variety of product lines and preferential prices.
We have our own production workshop and design team. If you cooperate with us, we can provide you with first-hand prices.
No matter from which point of view, we are the best choice.
Welcome to choose Lilla Accessories Co., Limited-a leading fashion accessories manufacturer in China that focuses on Long Scarf,Neck Warmers. >>>More products