What are the characteristics of a well-selling PVC ladies cosmetic bag
The characteristics of a well-selling PVC ladies cosmetic bag:
It is the nature of women to love beauty. Nowadays, women can make up more or less. Therefore, for female friends, cosmetic bags are indispensable. There are many PVC ladies cosmetic bags on the market, but not all of them sell so well. Generally speaking, well-selling female cosmetic bags will have these characteristics: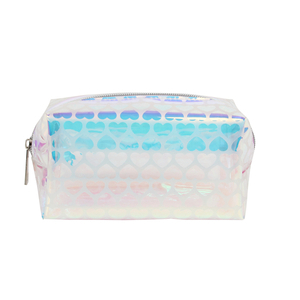 1. Large capacity
People who don't make-up don't know that there are really many types of women's cosmetics, from eyebrows to necks, each type of cosmetics is different, and different cosmetics also have special makeup tools. If the capacity of the PVC lady's cosmetic bag is not large enough, these cosmetics will not fit. Therefore, when a female friend buys a cosmetic bag, the first consideration is the capacity of the cosmetic bag, and a well-selling cosmetic bag must have a large capacity.
2. Exquisite design, convenient storage
As mentioned in the previous paragraph, women not only have a lot of cosmetics, but also a lot of make-up tools, and there are different ways to store different cosmetics. If the PVC ladies cosmetic bag has only one pocket and all the cosmetics and tools have to be mixed together for storage, it will definitely not work. Not to mention whether it is dirty or not, it is inconvenient to find. A good cosmetic bag, it has already thought of the storage problem from the design, it will separate many areas to put different cosmetics and tools.
3. Fashionable and beautiful
Another feature of well-selling cosmetic bags is that they are beautiful and novel in style. Nowadays, people will follow the trend to buy online celebrity models. The main reason is that they feel that the online celebrity models are better-looking. They are pleasing to the eye, and they also have more face when they are taken out. The cosmetic bag is the same. The better-looking ones are preferred.
These features are necessary for the popular cosmetic bag. If the cosmetic bag wants to sell well, you must first focus on these aspects.
Where can I buy a PVC ladies cosmetic bag?
Lilla Accessories, which has been mainly engaged in fashion accessories business since 2006, is one of the top 10 Sellers Union Group members in Ningbo and Yiwu.
Lilla Accessories Co., Limited is a leading fashion accessories manufacturer in China that focuses on Long Scarf, Neck Warmers.
The products we produce are complete in specifications and high in quality. We are committed to treating customers with integrity and quality, thus winning a group of loyal customers. Our products are exported to dozens of countries and regions. We solemnly promise to provide your products with excellent quality, reasonable prices and the highest cost performance. The quality of our products has passed international certification and the price is affordable.
Welcome to choose Lilla Accessories Co., Limited-a leading fashion accessories manufacturer in China that focuses on Long Scarf,Neck Warmers. >>>More products